The quality of Industrial Fans
Air pollution system a NSIC, SSI unit & Exporter of India. The company is established manufacturer of Industrial Fans, Air Handling, Ventilation & Air Pollution Control Equipments & Systems with the designed and engineering capabilities, manufacturing, inspection and testing facilities with after sales service.
Welcome to Air Pollution System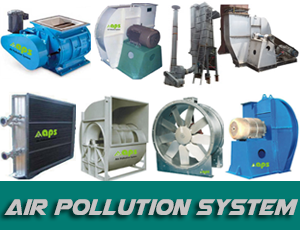 We take efforts in understanding the customer's requirement and offer them the right air blower. All Centrifugal air blowers & Tube axial fan the company offers are well designed, critically analyzed and tested for heavy duty operation. Special Care is taken during design and manufacturing stages to increase efficiency and reliability of our fans and blowers. Our capability in offering superior technology at competitive price differs us from rest of the manufacturers of Industrial fans.
Quality is achieved by proper inspection checks right from material purchasing to final testing of air blowers. Our focus is to develop and continuously upgrade technology for thereby creating efficient and reliable product which will satisfy our customers needs to the fullest. Over the years we have gained specialization in designing and manufacturing of the centrifugal blowers & tube axial fan to suit the application and environment in which your blower will be working.